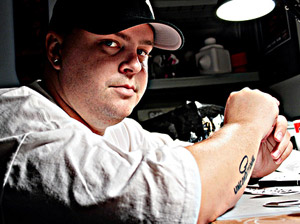 Jeremy Madl makes toys.
That should go without saying. But what sets the artist who calls himself MAD apart is his rather academic approach to his craft. No surprise given he earned a BFA in Toy Design at the Otis College of Art and Design in Los Angeles, the first school in the country to offer a degree in such a discipline. By being the thinking man's vinyl artist, the Kansas City-based designer has been able to work with clients such as Mattel, YUM Brands, Pepsi, and the NFL on a variety of projects.
He recently worked with Kidrobot to create the BoOoya Ghosts Mini Series, a collection of 2-inch prankish poltergeists. His characters and vision proved to be so unique and vivid, they helped inspire the KR Fall '09 apparel collection.
MAD has also been working on toy lines and brands under his own MAD Toy Design label. His first licensed figure line, MAD*L™, is currently one of the hottest brands on the market, flying off shelves with each new release. He's got various other products in development, including toys, tees, skate decks, and prints.
We love that MAD's passion for his work has driven him to produce some truly progressive art, which pushes the design envelope to the next level. Expect to see a lot of new and innovative work from this up-and-coming artist in the years to come!
Work
[nggallery id=33]
MAD's Latest
Web