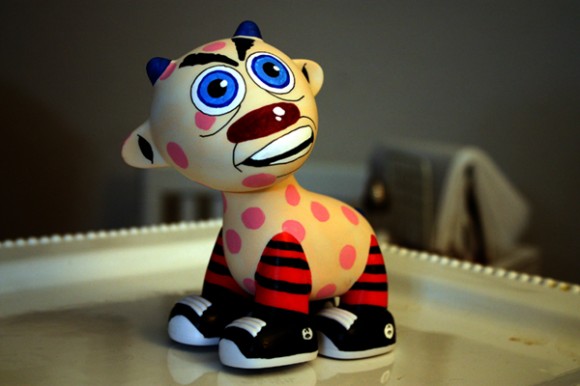 Congrats Gary AKA Brixpix of Largo, FL! You're the MUNNYWORLD contributor for this week and the winner of a free MUNNYWORLD character.
Gary's RAFFY looks a bit bewildered to be featured on the KRonikle, but rest assured, RAFFY – we're digging the stripes and the kicks.
MUNNY's new friends, TRIKKY, BUB, RAFFY and ROOZ want to be as famous as MUNNY. The new MUNNYWORLD characters have some catching up to do! Get your hands on a new MUNNYWORLD character, customize it and upload it to our new MUNNYWORLD Flickr group to show the world!
Every Wednesday, we randomly award a MUNNYWORLD figure to a lucky toymaker and feature it on the KRonikle! So get your MUNNYWORLD and get crackin, you can do anything you want!
And don't forget about the ROYGBIV MUNNYWORLD Highlight contest; we'll be picking a MUNNYWORLD character of every color to win!
Post your MUNNYWORLD creation today for a chance to win!