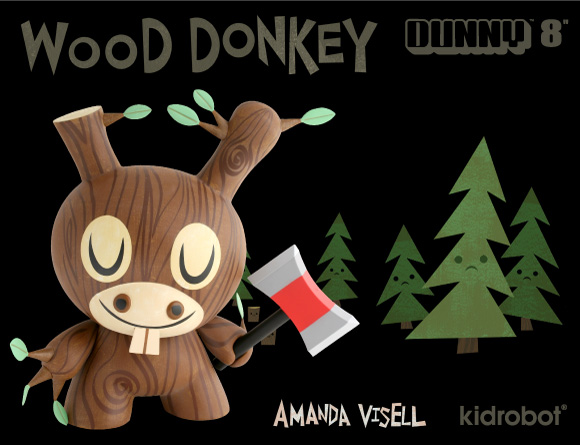 Wood Donkey Dunny 8-Inch
Make new friends with Amanda Visell's jolly, axe wielding Wood Donkey Dunny. All the forest creatures fear him, so he's had no choice but to chop himself up to expand his social circle. His philosophy is, the more, the merrier—so watch your fingers. This chummy 8-inch drops on August 20 and retails for $75.
A run of 1,500, the Wood Donkey Dunny will be released in Kidrobot stores at 6pm on the day of signings and Thursday, August 20, 2009, at 11am EST on kidrobot.com. Also available at select retailers.
Amanda Visell will be signing her exclusive new 8" Wood Donkey Dunny from August 18-21.
Amanda Visell lives in the Los Angeles area by choice. Her artwork has been seen in galleries and museums nationwide including an exhibit and exclusive merchandise line at Disneyland USA. Her portfolio includes original artwork along with toys, books, apparel, limited edition prints and sculptures. She is also working on perfecting her design for the ultimate home robot.
Shop for Amanda Visell on kidrobot.com!