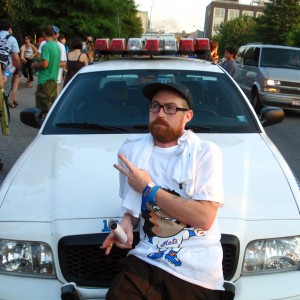 We caught up with MR. Shane Jessup to talk about karma and good deeds before he headed out to San Diego Comic-Con for the signing of his two 8-inch Dunny releases, including the SDCC exclusive Luck Dunny!
Be at Kidrobot booth #4529 early for the 11am-1pm signing to meet the artist and get your hands on this elusive piece of vinyl.
Can't make it to SDCC? The Lustrous Gold Fortune Edition of this figure goes on sale Thursday, July 23 at 11am local time at Kidrobot stores and 11am EST on kidrobot.com.
Kidrobot: Luck and fortune go both ways. Do your Dunnys bring the good kind or bad?
MR. Shane Jessup: Always good (I'm hoping)! If anyone experiences different, make sure to let Kidrobot know, leave me out of it.
Kidrobot: When you find your fortune, what's the first thing you'll do with it?
MR. Shane Jessup: Take care of my parents first, pay off their house and get them set up. Then I'd just worry about getting myself something nice so I can stop paying this NY rent.
Kidrobot: Who do you think could use some luck right now?
MR. Shane Jessup: Besides my bank account, it sounds like the city of San Diego and the mini-bar in my hotel room. Love me a $6 Snickers bar.
Kidrobot: You're signing Thursday July 23 at SDCC, any other plans while you're at the Con?
MR. Shane Jessup: I'll be signing some prints from 3-4 at the Cardboard Spaceship booth on the 23rd. I lived in Santa Cruz for over 10 years so I have to support the home team! Other activities include, seeing GWAR live, enjoying being back in San Diego (it's been a while), not going to Dick's Last Resort (unless it's a last resort), seeing a lot of old friends, and checking out all the amazing new products. Not sure what order those are going to come in, but I'm looking forward to it all.
–––––
MR. Shane Jessup is the Brooklyn-based artist/designer responsible for Kidrobot's best-selling Things That Hurt zipper pull series. MR. Shane Jessup will be at SDCC on July 23, signing his 8-inch Fortune & Luck Dunnys.