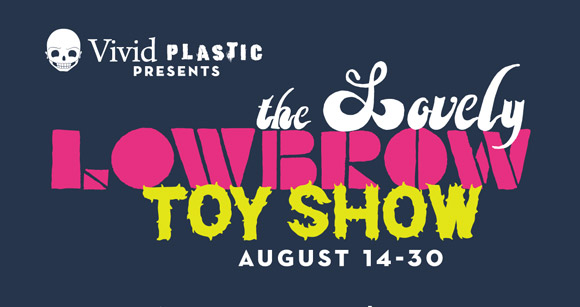 The Lovely Lowbrow Toy Show opened last Saturday to a packed crowd at Square Records Gallery in Akron, OH. This custom show marks the first annual event organized by Vivid Plastic Designer Toy Store. The crowd was a good mix of lowbrow art enthusiasts, toy collectors, and locals from the eclectic Highland Square neighborhood.
Over 30 custom pieces are on display with Akron's top artists:  Julia Bunn, Jeff Lamm, Jamie Suvak, Joshua Davis, Kate Budd, Charlie Wagers and Jaron Tager. As a special surprise, Vivid Plastic invited graffiti artist Sh!t Heap of San Francisco showing his Cloudy with a Chance of Rad custom. The blend of Akron based tattoo artists, graffiti artists, illustrators, and lowbrow painters made for a visually stunning exhibition.
The show will be on display during the huge art festival Art in the Square on August 28 and runs until August 30.