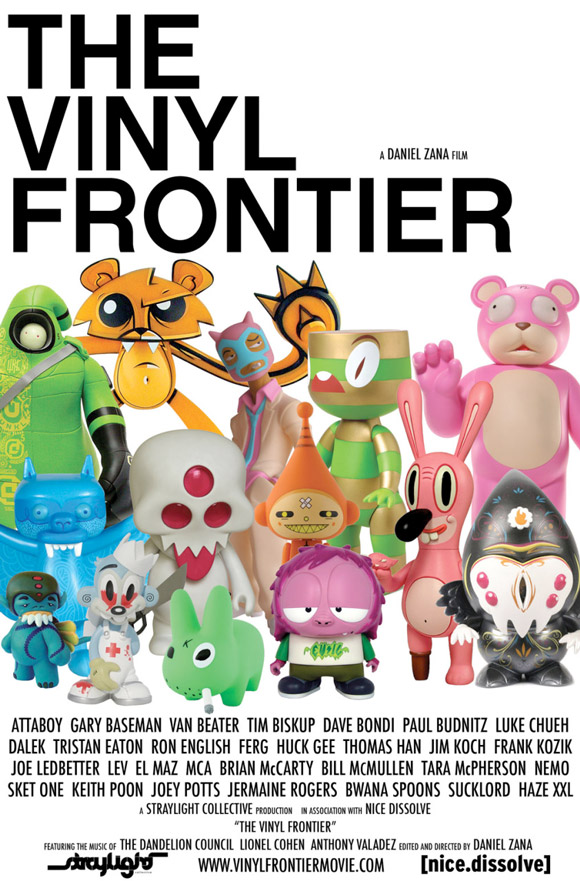 The Vinyl Frontier is finally hitting the big screen this year at SDCC. It will debut Friday, July 23 5:55 pm at the  Marriot Hall 1 & 2 at the Marriot Hotel and Marina. Following the highly anticipated art toy documentary, there will be a artist panel featuring Attaboy, Bwana Spoons, Brian McCarty, Frank Kozik, and director Daniel Zana. Daniel describes the film as such…
I started the film about 4 years ago with the desire to document an incredible art movement that I was just starting to get into myself.  As I began collecting these toys, i wanted to know more about the process, the artists, the works inspiring the toys, the collectors, etc.  So I set out and contacted as many interviewees as I could find to get a more accurate view about the vinyl toy world.  The result is a feature length documentary film (my first) that features over 35 artists, collectors, scholars, and toy makers who shed some light on the fascinating and somewhat new mode of expression.
Check out the Vinyl Frontier's
website
for more sneak peeks of clips and the official trailer.