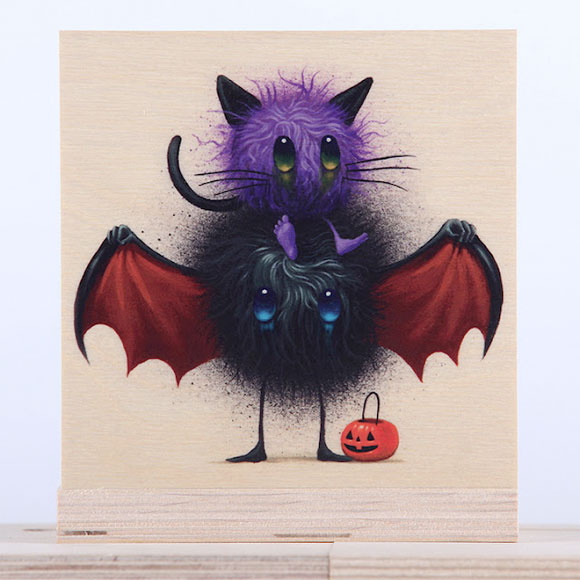 For those seeking a little creative treat this Halloween season, Jeff Soto has got you covered! The famed Kidrobot Black artist will be releasing a new 6 x 6-inch wood print called "The Candy Eaters" tomorrow, Thursday, October 4 at noon PST for $25 +s/h. Recreated from his original painting, The Candy Eaters is the 7th edition in his ongoing Seeker Friends series and was inspired by Jeff's 2 daughters and his personal love for Halloween.
"I chose a Halloween theme for this print because it's been all my daughters talk about lately. It's exciting seeing Halloween through their eyes. The design is two kids ready for a night of trick or treating- I think of them as siblings like my daughters."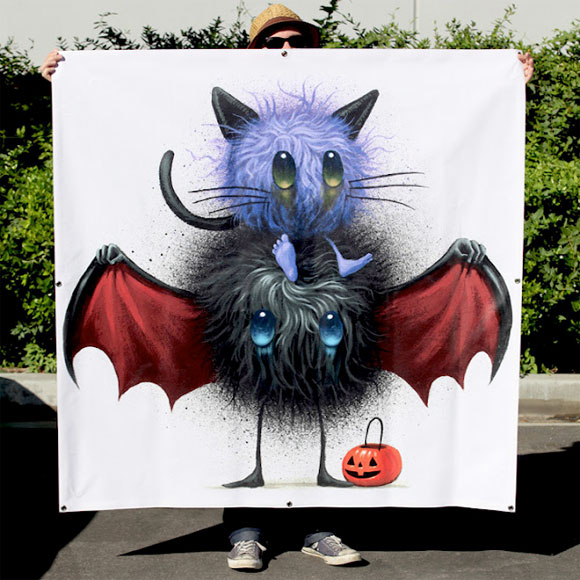 For those who are looking for a creative trick, Jeff is also giving away a pair of Seeker Friends #7 5 x 5-foot banners. To enter you can enter 2 ways. Check it…
1. Go to www.allvinylbanners.com and "Like" the page sometime between Thursday October 4, noon (PST) to Friday October 5th, noon (PST). You'll be automatically entered. Two people will be chosen randomly to win. AllVinylBanners.com is partnered with Prints On Wood for the contest!
2. Instagram– Jeff aka @jeffsotoart wants to see where your Seeker Friends live! Post your photos featuring the Seeker Friends to Instagram sometime between Thursday October 4, noon (PST) to Friday October 5, noon (PST). Use the hashtag #seekerfriends and Jeff will pick his two favorite photos.