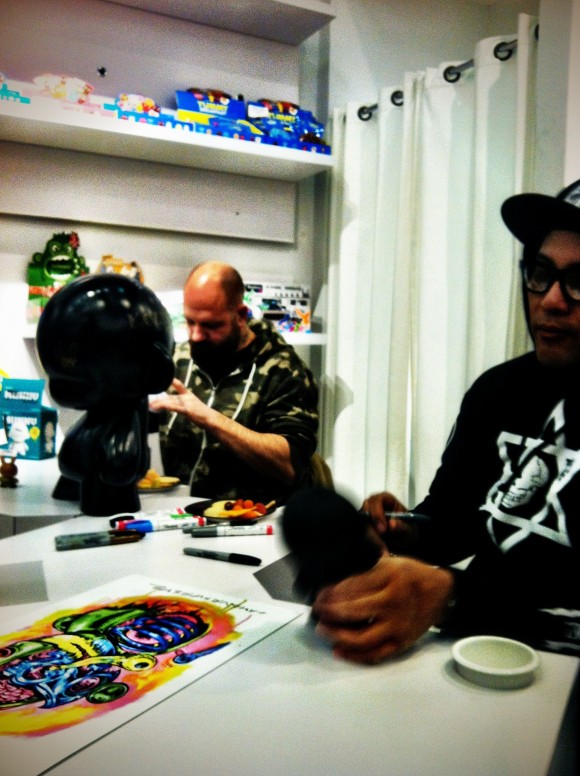 Kidrobot brought art to life this past Thursday with the L'Amour Supreme and Huck Gee signing at Kidrobot Boulder!
The turn out for this event was beyond impressive. Proving, once again, that Kidrobot fans know what's up! Two limited edition posters were available. One featuring a L'Amour Supreme graphic of a gory neon bot head, most recently used on a L'Amour Supreme X Kidrobot graphic t-shirt collab, and the other featuring a sneak peek of an upcoming Huck Gee X Kidrobot DUNNY to be released this year. Both posters, as well as various fan memorabilia were the perfect impromptu platforms on which both artists threw down brilliant sketch work in addition to their signatures.
Mountains of thanks to L'Amour Supreme and Huck Gee for their time and attention to each fan and all of you in the Kidrobot family who came to the event and waited SO patiently in line to meet these two art talents.
Great events like this are happening often! Stay up-to-date on events like this and so much more by signing up to receive emails from Kidrobot HERE (scroll down to bottom of home page).
Visit the KRBLDR facebook for more photos from this event.
Also, follow Huck Gee and L'Amour Supreme at:
Website: www.huckgee.com
Twitter: @huckgee
Instagram: @huckgee
Facebook: @huckgeeinc
and
Tumblr: lamoursupreme.tumblr.com
Twitter: @LamourSupreme
Instagram: @lamoursupreme