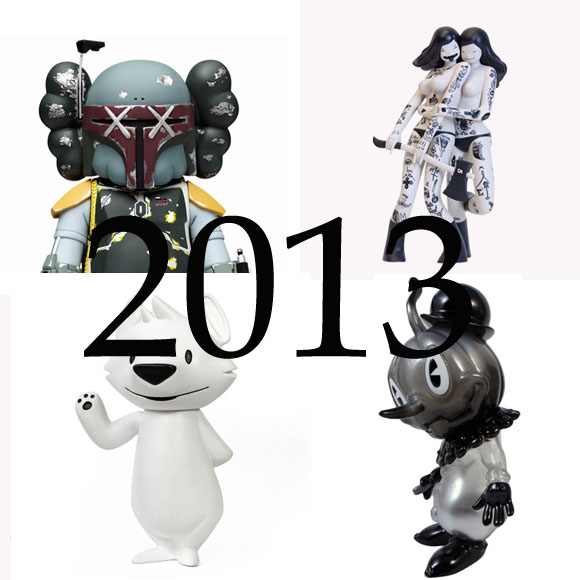 With 2013 coming to a rapid end, we thought it would be good to do one of those list things with top toy releases. We asked a few artists, stores, and forum members what toys stood out for them the most in 2013, and we got a good representation of what this past year had to offer.
Here is what they had to say:
ECKOTYPER – Long time KR forum member
Mike Leavitt – The Banksy Art Army Action Figure – "I had a special bond with this whole scenario once watching exit     through the gift shop, being a Disney freak also didn't help. I haven't bought one yet, but I need too before they sell out. "

Kaws – Boba Fett Companion -" Boba was the coolest villain as a kid and I figured Boba was next after the Stormtrooper, it was rumors for so long I almost didn't think it was going to drop, once it did. I went ahead and paid a semi rape price, just to have it."
Paul Kaiju – King Jinx – " Nothing really is to say on this. My mouth dropped When I got to see the sculpt in person at SDCC, the amount of detail and craftsmanship Paul put in the piece is second to none. hand sculpted and engineered by the man himself. even more amazing was the next day when I got called in the raffle early enough to own one of the first color ways of the sculpt."
JOANNE and RAY SUAVILLO – owners of Dragatomi retail store and gallery
www.dragatomi.com
Kaws – Resting Place-" It's a great piece to have in any collection."
Philip Lumbang – Awesome Bear – "It was great to see Phil's signature character come to life."
Kidrobot –Pierced by Parra – "It's just a great figure!"
SERGIO MANCINI – Artist (and keeps it short)
www.redmutuca.com
Mighty Jaxx – Bad Apple
Kidrobot – Digested by Alex Pardee
3A – Supreme nom
hed568 – Kidrobot forum member
Kidrobot – Simpsons THOH – "Sculpt quality was so good! The ratios were friendly and best of all, the characters are spot on! The rate at which this series sells speaks for itself."
Kidrobot – Hedonism Bot – "Finally kr listens to the buzz on the boards! Original, and nor just a blown up version of another 3 incher and it comes with a bowl of grapes!"
Kidrobot – sdcc blue gid Zoidberg – "Just look at how this crustacean glows that fiendishly blue glow… 'Nuf said!"
NOEL EASER – KR staff and forum member
Kidrobot – McBess Les Viandardes – "It's two naked chicks and it's McBess.. What more do I need to say?"
Circus Posterus x Tomenosuke – Brandt Peters' Stingy Jack  "Old Timey Edition" –  "Cute and creepy all at the same time. The lack of color gives it the old timey feel while the glitter keeps it in the future.. The first Stingy Jack in my collection, definitely won't be the last!"
Kidrobot –8″ Meltdown Dunny by Chris Ryniak – "International Orange Version by Chris Rinyak (Kidrobot): The 3″ version of this is was my favorite from the Dunny Apocalypse Series, it makes sense that the bigger version is going to even be MORE of my favorite! If that wasn't enough of a reason, the orange vinyl glows sooooo nicely!"
LILO KREBERNIK – owner of Sixxa store and adhocPAD gallery
www.sixxa.at and www.adhocrates.net
Kaws – Boba Fett – "Even though I'm no Star Wars fan and think most references to it are unnecessary, Boba Fett makes sense after having Vader and the Stormtrooper. It was an January release that also sparked some fire for this year."
Kidrobot – Les Viandardes by McBess – "Nicely executed, cool details and a toy that definately speaks to fans outside of the core toy scene. Matthieu built up a strong visual language and it's nice to see how his illustration transfers into 3D."
D*Face –D*Dog by sync version – "It's a classic streetart icon, and I love it for beeing released without any hype. Released at Stolenspace gallery before they went online a few days later, smart move. I really wish the industry would make more statements like this by going over reputable places instead of flooding the scene with preorders and go over random ebay sellers."
What are some of your favorite releases of 2013?
2014 is right around the corner, and we already know it stands to be an amazing year!