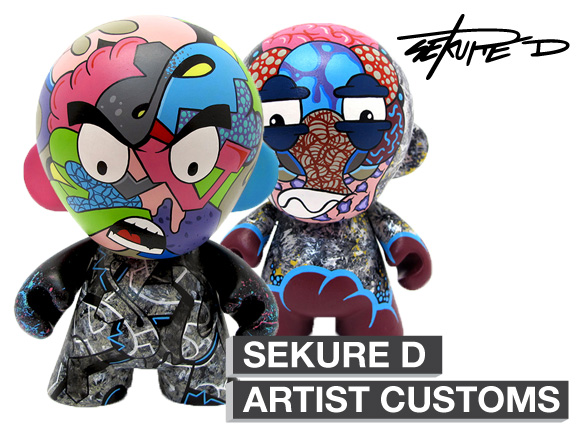 Get ready Kidrobot fans because Melbourne, Australia resident Sekure D is gearing up to invade Kidrobot stores and online with his amazing arsenal of Munnyworld customs!
You probably know him from his brilliant work with customization on the boards, but Matt Fabris aka Sekure D's skills go far beyond. Trained in a background of graffiti, Sekure D has quickly excelled on the scene, and has had the accolades to prove it with a client list including Nike, Adidas, and Footlocker. The attention doesn't stop there with recent museum features in Australia and London, but now Kidrobot has the pleasure of bringing his work stateside.
Sekure D's artist Munnyworld customs will be featured in each of our stores and online. You read correctly that Los Angeles, New York, Boulder, and San Francisco will all have their own lineup of work on display and for sale.
Are you ready to see the work?

The year is 2322 and the robots, no longer reliant on their solar heart panels have taken over the world, exterminating all but a few humans. After a century spent completing their foremost objective they are now left, bereft of meaning; a regrettable shortcoming of Artificial Intelligence. Seeking something greater the 'Codename Unknown' Robotic Allegiance has turned to the daily activities of humans to fulfill their needs while striving to eradicate their new found enemy, the Blobs, a thriving life form created from the toxic sludge emitted by the Codename Unknown prototypes. New armies have been constructed from parts previously discarded in their underground and underwater boneyards to help fight the Blobs and stop them from destroying the earth.