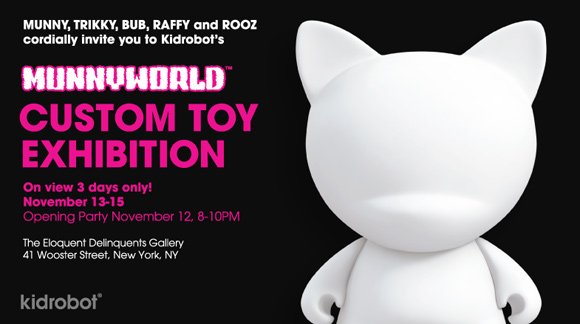 Celebrate the launch of MUNNYWORLD, Kidrobot's all-new do-it-yourself toys, at the world's most prestigious custom vinyl extravaganza, featuring over sixty rock star artists from around the world.
Be there to get your hands on these hot works of art before their official release. There will be beats, booze, and the chance to meet many of the most important toy artists in the game:

64 Colors, Aaron Stewart, Agatha Ruiz de la Prada, Amanda Visell, Andrew Bell, Angry Woebots, Buff Monster, Bukubuku, Christie Holloway, Chuckboy, Coolvader, Damon Soule, Dave White, DEPH, Devilrobots, DFC Mexico City, Dirty Donny, Doktor A., Filth, Frank Kozik, Greg Foley, Harley + Boss (Nathan Jurevicius x Andrea Kang), Harry Allen, Heidi Kenney, Huck Gee, ILoveDust, Jason Siu, Jeremyville, Jesse Hernandez, Jesse Smith, Joe Capobianco, Jon Burgerman, Kevin Gosselin, Koralie, Kronk, MAD, MR. DEN, MR. Shane Jessup, PON, Ryan Bubnis, Saner, SEEN, Serge Seidlitz, Shawnimal, Sket One, Solarspace, SourBones, SUCKADELIC, TADO, The Baroness, The Beast Brothers, TILT, Tim Tsui, TOUMA, Travis Cain, Triclops Studio, Tristan Eaton and Vault49.
On view 3 days only!
November 13-15
Opening Party November 12, 8-10PM
The Eloquent Delinquents Gallery
41 Wooster Street, New York, NY

View Larger Map
Got the need to put some ink to vinyl? Pick up a MUNNY at kidrobot.com right now!