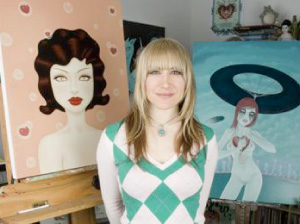 One of the most influential artists in pop surrealism, Tara McPherson has produced works that have taken us on majestic journeys that explore universal themes of love and loss. Her art often depicts characters that exude an idealized innocence with a glint of hard-earned wisdom in their eyes. Though her subjects usually appear otherworldly, it's their unmistakable humanity that endears them to us.
Named the crown princess of poster art by ELLE Magazine, Tara has created numerous posters for rock bands like Beck and Modest Mouse and often has her paintings and sculptures exhibited in galleries around the world. Her array of art also includes painted comics and toy design, plus advertising illustrations for some of the leading brands and publications in the world. Recently, her art was featured in the Academy Award-winning film Juno as well as the hit TV show Veronica Mars.
Known for creating art about people and their odd ways, her characters exude an idealized innocence with a glimpse of hard-earned wisdom in their eyes. Recalling many issues from childhood and good old life experience, she produces images that are both thought provoking and seductive.
Work
[nggallery id=14]
Web
taramcpherson.com
myspace.com/taramcpherson
Shop for work by Tara McPherson on kidrobot.com.