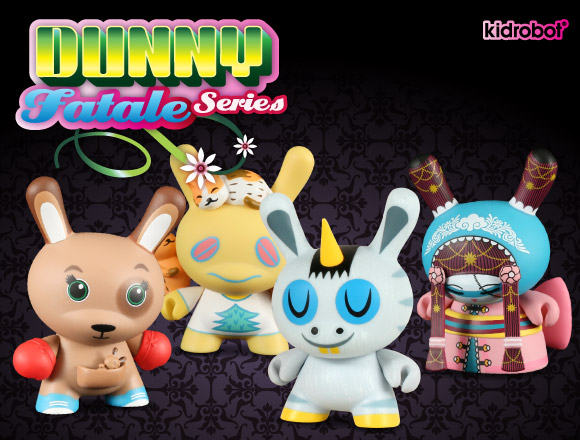 Put on a tie, because the ladies are almost here. To get ready, we've prepared a little guide for you.
Be entranced by the newest Dunny series, Dunny Fatale, featuring designs from 18 prominent and talented female artists. Some are cute and sweet, others are bold and cruel, but all are irresistible. Each blind boxed 3-inch figure retails for $7.95, comes with a trading card and some include accessories.
Dunny starts seducing this Thursday, January 28th at select retailers, Kidrobot stores and on kidrobot.com. Check her out at Jinxed in Philadelphia, Maximum Comics in Las Vegas, Rivet Gallery in Columbus, or with KLOR in Montreal.
Speaking of KLOR, purchase a case of Dunny Fatales and get an exclusive colorway of the 3-in KLOR Dunny.
Learn about some of the artists that contributed to Dunny Fatale, such as Amanda Visell, Tara McPherson, and TOOFLY.
And of course, don't forget your Dunny Fatale checklist.
Did we miss anything? Add it in the comments!
[nggallery id=96]