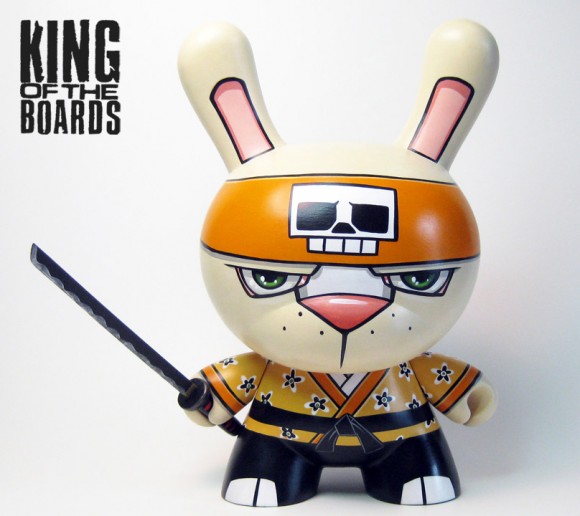 *UPDATE: 1/21/11
Welcome to Kidrobot's monthly custom Dunny giveaway, KING OF THE BOARDS. It highlights one of the many talented artists and esteemed Forums members while giving you a crack at collecting one of their original art toys. The Kidrobot Forums is breeding ground for vinyl customizers and toy collectors to share and discuss all things Kidrobot. Now is your chance to enter and win this one of kind 8-inch Dunny by Grimsheep. Email wheelbarrow@kidrobot.com with what you think this bad boys name should be by 2pm EST next Thursday, January 13 to enter in the random drawing. Please title your entry email Grimsheep Dunny.
*The winner selection process has been slightly altered to give the power to the people. 10 random names where drawn and it's up to you to choose the best name for this amazing Dunny. VOTE now in the new KR Poll (front page, right column) for your favorite submission. The winner will be announced Thursday, January 20.
Starting the new year off right is this month's KING OF THE BOARDS, Grimsheep. Coming strait out of Vacationland, Grimsheep aka Owen DeWitt applies production quality paint work of bright bold beautiful characters to all things vinyl and kills it every time. He recently exhibited work in the Custom MUNNY Show at Kidrobot Miami and has been featured here on the KRonikle in the past. He has spent the last few years illustrating, web designing and assaulting platform toys. We asked Grimsheep what's up, to see what makes him tick.
[nggallery id=231]
KR: How long have you been a board member and why did you join?
G: I've been a board member since January 2008 and I joined because my MUNNY box told me to ;)
KR: What inspired you to start customizing toys?
G: I believe it was a David Lanham MUNNY custom that first steered me towards the light. I've always loved and collected toys, often purely for esthetics, long before I'd ever heard of an Art Toy. When I learned that such a phenomenon existed and that customizing toys was not just some unrealized fantasy in the back of my brain I was helpless to resist.
KR: Who are you favorite artists and/or biggest influences?
G: Aside from a milllion comic book artists and cartoonists, a few of the big ones from way back are Frank Frazetta, M.C. Escher, and H.R. Geiger. As for artists from the designer vinyl world, so many of the designers and customizers are inspiring, but I'm going to have to go with a couple of the ladies. I seem to love anything by Julie West and Amanda Visell :)
KR: What was you first toy?
G: My first vinyl toy was an S4 Kozik.
KR: What are your plans for the future?
G: The plan is to get some production pieces under my belt and keep doing what I love doing; painting and designing toys for a long as people want them or I have the space to keep them.
Check out more of Grimsheep's brilliant custom art toys on here.
Congratulations to Andrew R. and the winning name, Howie Doozit. You won!