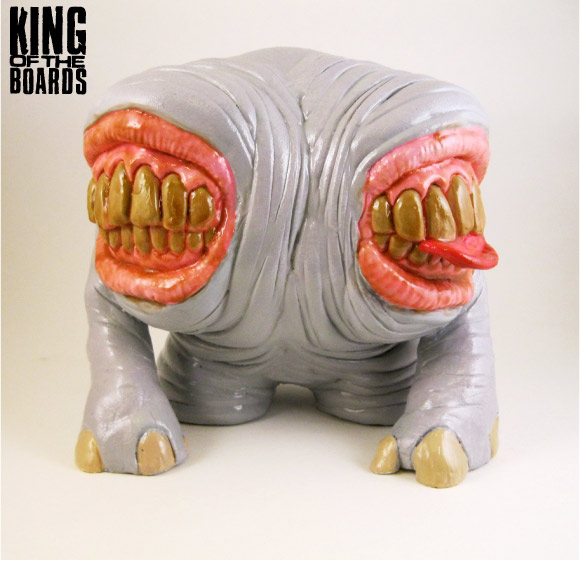 UPDATED: 8/19/10
Welcome to the third installment of Kidrobot Forum's artist custom contest, KING OF THE BOARDS. Every month or so, the KRonikle will hail praise to one outstanding discussion board member for their continued efforts in building up the vinyl art community one platform toy at a time.
Enter to win this monsterrific custom 8-inch Dunny, The Treature: Glutton Type by Motorbot. All you have to do is email your name, address and your 3 favorite Dunnys of all time to wheelbarrow@kidrobot.com before 12 noon EST next Thursday, August 19 in order to enter the drawing. Please title the email, Motorbot Dunny.
We sat down with Motorbot and he shared a few words of wisdom with us about life on the Kidrobot boards.
KR: How long have you been a board member and why did you join?
MB: I've been a member for close to six years now. I picked up a Juxtapoz that had a write up on the first Dunny show. I checked out the website, lurked on the boards for a month or so and then joined. It wasn't long after that that I started collecting and painting toys,
KR:What inspired you to start customizing toys?
MB: I had graduated from college and didn't really know what I wanted to do with my art. I sent submissions to a few comic companies with no luck, and did random freelance jobs. then I found Kidrobot. Once I saw that people were customizing toys, it seemed like a perfect fit.
KR:Who are you favorite artists and/or biggest influences?
MB: My art has always been influenced by comic books. Comic books taught me how to draw. Bill Sienkiewicz and Al Columbia are my favorite artists. Sam Kieth and Ashley Wood are also in there. there's a little bit of each of them in my art.
Toys are also a major influence. Madballs, Rat Fink, Ninja Turtles, He-Man, all the stuff I played with as a kid seems to find it's way into what I do.
KR:What was you first art toy?
MB: I bought a Billy Mon Mad*l and was pretty much hooked from there.
KR:What are your plans for the future?
MB: I've started making my own resin figures and have had a ton of fun so far. It's very fulfilling making something from scratch. i have a lot of things planned for the resin line, and a couple of vinl pieces are also in the works.
Stay up to date with new works and productions by Motorbot at Motorbot.net, you can follow him on Twitter, twitter.com/motorbot or hit up his online store, deadbear.bigcartel.com
[nggallery id=195]
Congratulations to Christian P. You won The Treature: Glutton Type custom 8-inch Dunny! Christian's three favorite Dunnys are Series 5 Huck Gee Golden Ticket (the real one), Kenzo Minami Discussion Board Exclusive from 2007 and Touma's 20-inch Tattoo Bear.