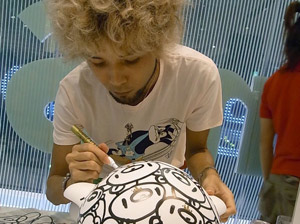 Japanese graphic designer Mori Chack is perhaps best known for Gloomy Bear, a giant, pink, violent bear that attacks humans and exemplifies Chack's belief that humans and animals are incompatible since animals are wild by nature.
Beginning his career as a street artist, Chack sold original character postcards and stickers on the streets of his hometown of Osaka. His other creations include Podolly, the infamous sheep in a wolf's clothing, and Kumakikai, a robotic Gloomy Bear with rockets for feet. Chack's trademark deceptively cute characters serve to express his personal brand of satirical humor and commentary on the world's contradictions and social issues. He currently lives in Tokyo.
Read more about Mori Chack here on the KRonikle, or shop for Mori Chack on kidrobot.com!

Work
[nggallery id=82]
Web