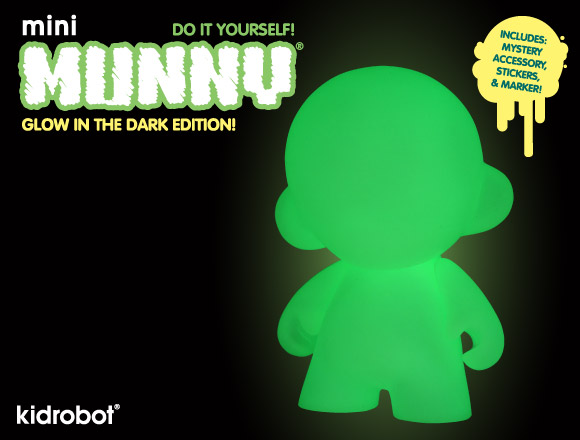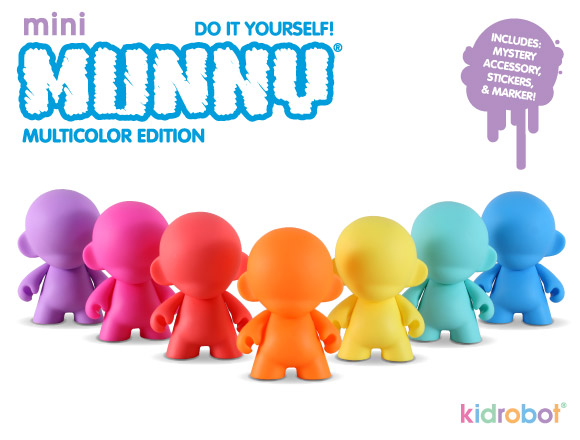 Mini MUNNY Glow in the Dark and Multicolor Editions
Explore even more possibilities with the world's greatest do-it-yourself toy. Our miniature version of MUNNY is coming at you in two new editions: glow in the dark and a blind rainbow assortment in which you get one of eight possible colors.
As always, each 4-inch figure comes with mystery accessory, stickers, and mini marker. Retailing for $9.95, the GID and Multicolor editions is at Kidrobot stores, kidrobot.com, and select retailers.
More Pics
[nggallery id=109]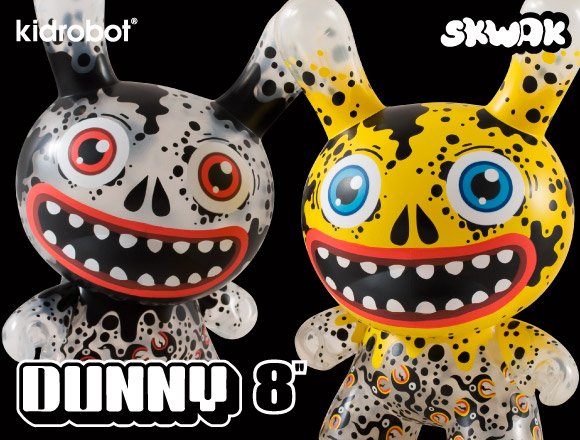 Oil Slick Dunny 8-Inch
Strike it rich with these eye-popping, super limited Dunnys from French artist Skwak. Sporting a maniacal grin and clutching two cans of liquid fortune, Oil Slick Dunny is covered nearly head to toe in a healthy splattering of the crude stuff. Just don't let him drink your milkshake.
At only 500 of each edition made, Oil Slick Dunny drops today and retails for $75. The "gold" edition of Oil Slick Dunny will be available only at Kidrobot stores and select retailers and the "oil" edition will be available exclusively at kidrobot.com.
More Pics
[nggallery id=110]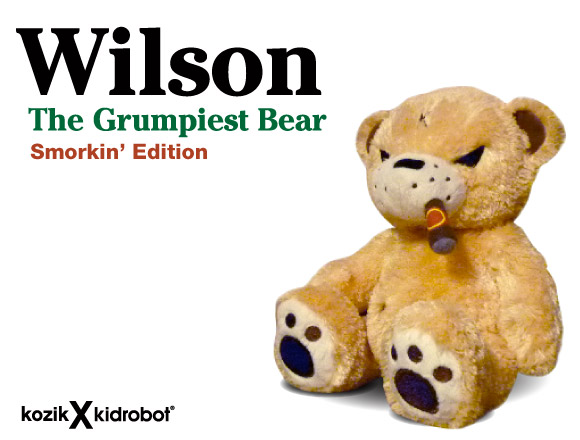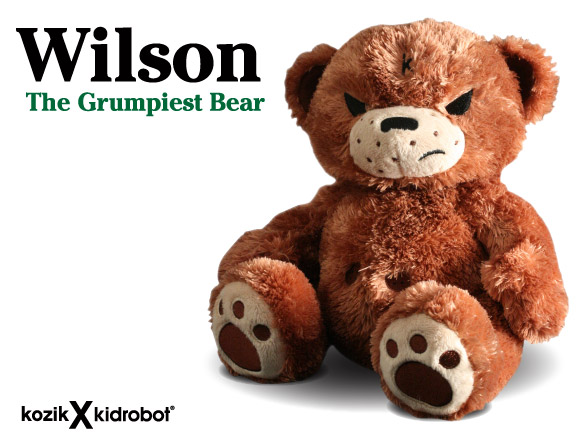 Wilson the Grumpiest Bear 8-Inch Plush
Butterflies. Puppies. Freshly baked bread. Children of all ages. There isn't much that Wilson doesn't dislike.
Wilson is the latest in a series of ornery plush characters called the Grumpsters, created by Frank Kozik. Retailing for $29.95 and available in smorkin' and non-smorkin' editions, this 8-inch grouch ambles into Kidrobot stores, kidrobot.com, and select retailers today.
Another Pic
[nggallery id=112]