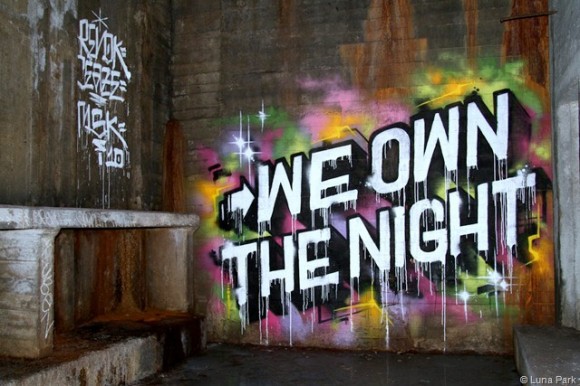 A modern day treasure chest of urban art is hidden deep in an abandoned subway station below New York City called The Underbelly Project. This incognito exhibition was manifested and curated by the street artists, Workhorse and PAC.
In early 2009, a project began four stories underneath the skin of New York. For nearly 100 years, a massive subway station sat unfinished, unused, and undiscovered. Over the course the last year, artists have been secretly escorted into this station to leave their creative mark. Unobstructed by the pressures of commercial sales, phone calls, or daily routines, each artist painted for one full night. The Underbelly Project is the result of the past year. At the close of the project, the entrance was removed and darkness reclaimed the space once again
Over the last 18 months, 103 international artists claimed there stake in this new legend of New York graffiti. Those names include Roa, Jeff Soto, Smith/Sane, WK Interac, Stormie Mills, Remi/Rough, Ethos, M-City, Damon Ginandes, Various & Gould, Jim Darling, Thundercut, She One, Aiko, Faile, Momo, Revok, Ceaze, Daryll Peirce, Know Hope, Rone, Surge, The London Police, Swoon, Spazmat, Demer, Michael DeFeo, Ema, Meggs, Joe Iurato, Guilerme, Lucy McLauchlan, El Tono, JMR, Ron English, Dan Witz, Flying Fortress, Asylum, Lister, Jeff Stark, Indigo, Peru Ana Ana Peru, Meggs, Ripo, Kid Zoom, Gaia, Noh J. Coley, Cash4, TrustoCorp and many more.
Check out the in depth articles in the New York Times and Huffington Post for more information.
Images via Luna Park.
[nggallery id=226]