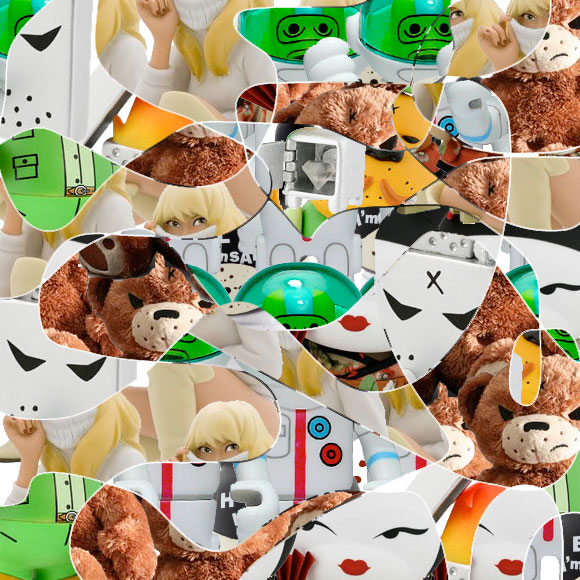 The TOY TWISTER MIXER UPPER is back and ready to challenge your eyes and toy knowledge! Enter to win a Stoner Fort 5-Pack before you can buy it. There are 7 assorted toys in this puzzle ranging from rare releases to mini series. So please be specific when listing toy titles, colors, sizes and names of artists. Email wheelbarrow@kidrobot.com with correct answers by noon tomorrow (Wednesday May 5, 12 pm EST) to be entered in the drawing to win.
Good luck!
Congratulations to Denny C. You won a Stoner Fort 5-pack!
The correct answers are:
1. Monger Filter Kings mini Series 'Howie'(Zippo Lighter) – Frank Kozik
2. Wilson Plush 8″ Grumpster Edition Teddy Bear – Frank Kozik
3. Chumps 'Waxlips Lefontaine' (citizen version) – Frank Kozik
4.  8″ 'I'm Insane'Dunny – Huck Gee
5.  8″ Geisha Dunny, Red Flower Edition – Huck Gee
6. Miss November 1978 7.5-Inch  – Paul Pope
7. Peecol Series 1 Astronof – eBoy
See you all next week.