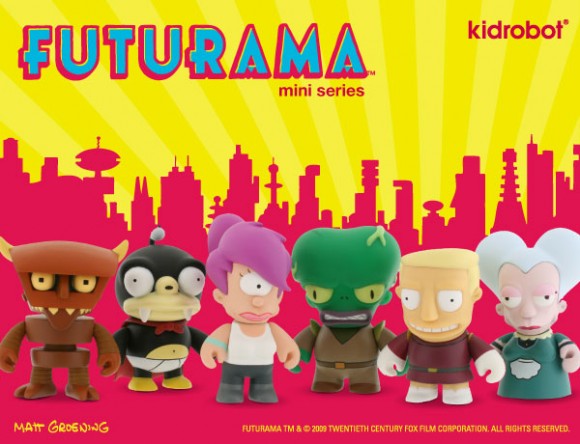 Futurama Mini Figures – August 13 Release
Welcome to the 31st century! Matt Groening and David X. Cohen team up with Kidrobot to bring all your favorite Planet Express employees to vinyl. From the cryogenically frozen Fry to the ancient Dr. Zoidberg, 12 iconic characters, including 2 chases, are coming at you blind boxed on August 13. Each 3-inch figure retails for $8.95.
Matt Groening is the creator and executive producer of THE SIMPSONS and FUTURAMA. He has received multiple Emmys for his work in television. Groening is also creator of the popular comic strip Life in Hell. Groening has won 11 Primetime Emmy Awards, ten for The Simpsons and one for Futurama as well as a British Comedy Award for "outstanding contribution to comedy" in 2004. In 2002, he won the National Cartoonist Society Reuben Award for his work on Life in Hell.
David X. Cohen is the executive producer of FUTURAMA. Cohen previously spent five years as a writer for The Simpsons, and holds a Masters degree in Theoretical Computer Science from U.C. Berkeley, as well as a Bachelors degree in Physics from Harvard University, where he served as President of the Harvard Lampoon humor magazine. He has received three Emmy Awards, two Annie Awards, and zero Nobel Prizes for his work.